As previously mentioned in my earlier book review, One Man's Paradise by Douglas Corleone has just been released by Minotaur Books. He's got a few signings coming up one on May 8th and one tomorrow May 1st at Barnes & Noble Ala Moana from 1:30–2:30, to which Alex and I will be going (check the calendar for more info).  Despite his busy schedule Doug was kind enough to answer a few questions just for our HBB readers.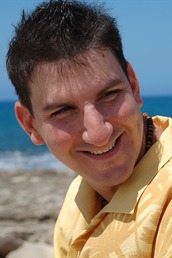 1. What do you find most enjoyable or rewarding about writing? 
Writing, like reading, is a form of escape for me.  It's enjoyable to spend time in the world I created for my characters, and it's thrilling to see that world through the eyes of my protagonist, the Honolulu criminal defense lawyer Kevin Corvelli.  Kevin is a unique hero, because he lets the reader in on all of his flaws, and he's unapologetic.
The most rewarding part of writing is reading the finished product.  Even before the actual book is printed and bound, it's exciting to read a complete manuscript you've written from beginning to end.  There's a certain satisfaction when your words evoke the emotion in you that you set out to evoke in your audience.
2. Hawaii as a setting plays a big role in One Man's Paradise, any plans for future books to take place in the 808 state?

Hawaii presents such a beautiful contrast to the world of crime and criminals I create.  That bad things happen here in the islands can seem almost unimaginable to a visitor on her first day lounging on Waikiki Beach.  That contrast is a catalyst for One Man's Paradise, and it will remain a catalyst in future stories.
As a matter of fact, One Man's Paradise is the first in a series of novels to feature Kevin Corvelli, all of which will take place in Hawaii.  I am presently at work on the second Kevin Corvelli novel, tentatively titled *NIGHT ON FIRE*, which will feature Kevin defending a young bride against murder and arson charges stemming from a catastrophic fire at a popular Hawaiian beach resort.
3. Kevin Corvelli is a very complex character. Many writer's describe themselves as "plot" or "character" writers, obviously they are equally important, but which would you say you lean toward?
I definitely lean toward character.  Kevin Corvelli and his colleagues and adversaries each have lives outside the present case they are working on, and I think it would be a crime not to give readers at least a glimpse of those lives.  The characters in my books will have human problems, like troubled relationships, economic worries, and plenty of self-doubt.
I do have specific a plot in mind when I begin to write a novel, but not a rigid outline.  I let the characters make some of the decisions, let them make some of the mistakes.  I also give them full credit when they discover something I may have missed.
4. What inspired the unique quirks of main character Kevin Corvelli (anal tendencies, distracted mental notes to look things up on the internet)?

I would like to say Kevin Corvelli is a complete figment of my imagination, but people who know me would disagree.  I share a lot of the same quirks, though I tend to exaggerate them in Kevin's life, if only because Kevin presently has more difficult struggles, like winning a major case and keeping himself alive.
Kevin Corvelli is very much a neurotic New Yorker, and this first novel lands him in Hawaii, where the culture is very different.  So, it's very much a "fish out of water" story.  But throughout the novel, you see Kevin Corvelli trying to adapt.  And that struggle to adapt to paradise will continue, I suspect, in many books to come.
5. What books or authors have influenced you?
So many.  In the crime genre, everyone from Raymond Chandler to Elmore Leonard.  I was inspired to go to law school and later to write legal thrillers by those writers who paved the way: John Grisham, Scott Turow, Steve Martini.  Yet, I'd say I was most heavily influenced by writers like Charles Bukowski and John Fante, writers who put their own flaws on the page without apology.  I have a great respect for writers who are willing to expose themselves and their eccentricities to readers, using only the thin veil of a protagonist who goes by a different name.  That's not to say I'm
Kevin Corvelli, of course.  Depending on who you ask, I'm either much better, or much, much worse.
Thank you so much Doug, for sharing a little bit about yourself as a writer and giving us some insight into your new book. We look forward to more crime adventures, legal dramas and Corvelli!