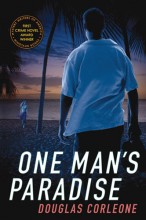 Crime fiction exploded in the late 19th and early 20thCentury branching into sub-genres like "psychological suspense" and "police procedural". Dime novel and pulp magazine mysteries filled popular culture with noir detectives and sultry femme fatales. They were iconic ingredients in crime fiction recipes of the period.  One aspect of the mystery/crime fiction genre that continues to evolve beyond those one-dimensional traits is the "legal thriller". It's the cynical, sophisticated step-cousin of the detective novel and a best-selling favorite since the late 70's (think Grisham, Patterson and Mary Higgins Clark just to name a few). However, one local mystery author is set to make some waves with his newly released book.
Two parts legal thriller and one part classic whodunit, One Man's Paradise (Minotaur, 2010) is the debut novel from attorney turned author, Douglas Corleone. Recently named the Minotaur Books/MWA First Crime Novel winner, One Man's Paradise is a murder mystery told from the viewpoint of a young defense lawyer.  Questionable characters, murder, money and sex are all great components of a riveting crime novel and Corleone expertly weaves them all into a paradise setting, an undeniable formula of captivating suspense.
Summary:
Criminal defense attorney Kevin Corvelli flees from his New York City practice for a slower life in Honolulu working petty misdemeanors.  But paradise isn't far enough to escape his calling and he falls face first into a precarious case with life or death stakes, eerily similar to the national case that had him running in the first place. Proving that you can't hide from your past, the situation gets increasingly complex as Corvelli slowly unravels a list of growing suspects.  Despite the danger, the case ultimately provides him a chance at redemption that he has no choice but to pursue.
Review:
The first thing that pops out about this novel is its endearingly candid main character who also provides the first-person narrative.  Kevin Corvelli is drawn from Corleone's own experiences as a criminal defense attorney in New York City.  As such, Corvelli exudes a lot of the intelligence and attitude one might expect from your typical hot shot, big city lawyer.  Kevin is cocky and arrogant yet his struggle for redemption and his desire to change his ways shows he's both dynamic and complex, the way good protagonist should be. There's the over lying story conflict, various surface conflicts, and then there's Corvelli's constant moral dilemmas!
What's great about Corvelli is that he's not always the most likeable character, he has flaws and he annoys you but you still root for him. Modeled after his NYC mentor, "Not Guilty" Milty, Corvelli can seem vengeful, a bit chauvinistic, judgmental, and very opinionated. He's a tough lawyer from an even tougher city and his prevailing attitude is what causes some of the conflict between himself and his new Hawaiian setting.  This conflict dictates a lot of his actions and thoughts—while Corvelli relies upon his experience and methods from New York, he is also a man taking steps to change because he's unhappy with the man that he was.  Helping him in this change is his new "father figure" Jake and the "ideal" vision of Hawaii, a "Hula Princess" in the form of a local female bartender named Nikki, who catches Kevin's fancy. 
No buxom blondes in trench coats will be found in this story but token stereotypes are present in the secondary "local" characters.  It's unfortunate that the locals (read: Hawaiians) Corvelli seems to gravitate toward are typically "troubled" or came off as working class:  bartenders, doormen, drug dealers/users, and so forth.  Mixing it up a little is the somewhat funny Japanese DA/judge combination, although this was used to reflect a parallel between Corvelli's  difficulty bonding with the Jewish legal culture in New York and the apparently (at least in this case) Japanese legal culture in Hawaii.
While Corleone does a great job of conveying the atmosphere of certain areas on O'ahu for the casual reader (most notably Waikiki, Kailua and a nice scene set at Mokuloa island), he seems to grasp for the easiest methods in attempting to portray the "dark" side of Hawaii, such as meth use, marijuana, and violent locals with chips on their shoulders. It's like when they play the same song on the radio over and over again…I was disappointed, expecting the same depth he displayed in his lead character and plot.
That being said, Corleone does an excellent job of hooking you in with his writing style and it was easy to get sucked into the story.  The plot was layered enough to keep me continuously reading, although I felt the narrative lost some momentum three-quarters of the way in.  The twists and turns added to the suspense but I found it to be just one swerve too many—how many more people could actually be involved at that point I wondered to myself. Corleone truly excels when going into detail on the various nuances, schemes and tactics involved in being a criminal defense attorney and "working" the law to his favor in cases both big and small. I very much enjoyed how Corvelli was always trying to find an angle, always trying to create reasonable doubt or how the mystery unfolds for him and you as the reader simultaneously. That's not an easy feat for a writer to achieve so seamlessly.
I found myself reading not just to see who the murderer was but to find out what other shenanigans Kevin would find himself in. Honestly, I would recommend this book more for the sheer joy of reading about Kevin Corvelli than for the mystery or the paradoxical setting. As far as lead characters go, he's a winner and we'll be so lucky if we get to read more of his legal adventures. I loved all of Corvelli's antics: his brash chest beating, inner monologues about germs, constant mental notes to look things up on the internet, envisioning himself  as oo7, pretending to be a seasoned kayaker only to find himself literally in over his head. This is the most fun I've had with a character in a long while! You can tell Corleone truly enjoys writing him.
Personally, I felt the ending fell a little flat after all of the suspense of the evidence-collecting, a point which is hard to explain without giving up huge spoilers.  Suffice to say, everyone has motive in this book and the one it landed on seemed weaker than the rest. Overall, I enjoyed the book quite a bit and even made Alex read it so we could debate and discuss it.  It was a great read…minus the fact that all the women in this book are manipulative and easy, or that all the local characters are blue collar criminals. 😉 Alex says I can be overly critical about these things.
We have an author interview with Doug coming up in a couple of days, but in the meantime he's very active on both Twitter and Facebook, so you should check him out there or visit his official homepage at www.douglascorleone.com. He recently did an interview and guest blog post that you can read and he's got some book signings coming up soon. His next appearance is this Saturday, May 1st from 1:30 to 2:30 at Ala Moana Barnes & Noble —check out our calendar for more dates and info!