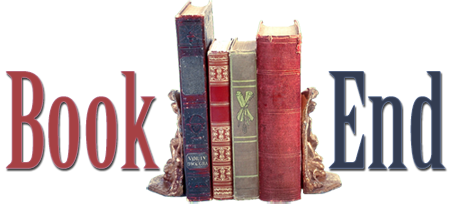 It's time…it's time…it's Book End Time! Welcome to this week's Book End, highlighting the week's literary and library events here in Hawaiʻi.
This week, I apologize for the tardiness and as a result, I give you two bonus days: Tuesday and Thursday! Plan your week accordingly!
Support our local literary scene and our local libraries by attending these events.  Have a great weekend, everyone!
[gn_divider /]
Saturday, March 2
HPU Ko'olau Writing Workshops – Award-winning writer Eric Paul Shaffer will speak at Hawaii Pacific University's 16th Annual Koolau Writing Workshops. Local writers are invited to listen to Shaffer speak and to take workshops in scriptwriting, fiction, poetry and nonfiction. Please reserve your space. $10–$20. HPU Hawaii Loa (Cooke Academic Center, 45-045 Kamehameha Hwy.); 8:45 A.M. to 3:30 P.M. For more info, call 544-0228.
"Make Books!" with Lisa Louise Adams – Join Lisa in this half-day workshop and learn to make a hard-cover accordion book and also 2 soft-cover books. Treat yourself to a fun day of learning the simple art of book making and get inspired by Lisa's collection of one-of-a-kind art books. Students are asked to bring cotton fabric for covers and magazine or favorite copies of photos. Cost $35/$31.50 VAC members plus $10 supply fee.  This program is supported in part by the Hawai`i State Foundation on Culture and the Arts, through appropriations from the Legislature of the State of Hawai`i or grants from the National Endowment for the Arts. Volcano Art Center (Niaulani Campus, 19-4074 Old Volcano Rd.); 10:00 A.M. to 1:00 P.M. Call to reserve your space at 967-8222.
A "Seussical" Performance – In celebration of Dr. Seuss's birthday (March 2) and Read Across America, students from the Performing Arts Center of Kapolei (PACK) will present a special performance of songs from the musical "Seussical." The free event will be conducted in the Children's Section. The program will be followed by photo opportunities with cast members. Keiki will be offered a free Dr. Seuss goody bag after the performance. The Friends of the Library Kapolei is sponsoring this one-hour program which is suitable for all ages. All keiki must be accompanied by a parent or caregiver. Kapolei Public Library (1020 Manawai St.); 10:30 A.M. For more info, call 693-7050.
Celebrate Dr. Seuss' Birthday! – Join the book store for a special Storytime as they celebrate beloved author Dr. Seuss! They will be reading some of their most favorite Dr. Seuss stories including Green Eggs and Ham among others. Held in the Children's Section. Barnes & Noble Kahala Mall (4211 Waialae Avenue); 11:00 A.M. For more info, click here.
Indigenous Ainu Musicians from Japan – The Ainu are an indigenous ethnic group of people who live in Japan as well as in Russia. This one-hour performance will feature the tonkori, an Ainu plucked five-string instrument. Solo artist Oki has performed around the world playing both traditional Ainu music and fusion pieces with various reggae and world music bands. With a name translating as 'butterfly' in the Ainu language, the four women of Marewrew weave their beguiling voices into spiraling, hypnotic harmony as they reprise and renew the songs most important to ancient Ainu traditions and customs. This family program is sponsored by the East West Center, Hawaiian Airlines, and Hawaii State Library. Performance will be held in the main lobby. Hawaii State Library (478 S. King St.); 11:30 A.M. For more information, call 586-3499.
Jaimal Yogis: The Fear Project – Meet author Jaimal Yogis with his latest book, The Fear Project. An epic adventure full of incredible characters, death-defying athletic achievement, and bleeding edge science, The Fear Project began with one question: how can we overcome our fears to reach our full potential? Who among us has not been paralyzed by fear? In The Fear Project, award-winning journalist and surfer Jaimal Yogis sets out to better understand fear—why does it so often dominate our lives, what makes it tick, and is there even a way to use it to our advantage? Barnes & Noble Ala Moana Center (1450 Ala Moana Blvd. STE 1272); 1:00 P.M. For more info, click here.
Author Event with Benjamin Marantz and Samantha Sunshine – Hilo! Come to the book store as they welcome Benjamin Marantz and Samantha Sunshine, co–authors of AcroSage Inversion Therapy. Floating in a pool of nothingness; flying weightless on the hands and feet of another person is an experience like no other! Through hanging upside down, the spine instantly lengthens, and the human body experiences altered states of consciousness. AcroSage is a playful, powerful and partner–inspired tool for creating overall health and peace of mind. The best part is that the method is mutually beneficial for all involved. Come witness an AcroSage treatment, sing your heart out with Benjamin, and check out the book to start your own unique flying journey. Basically Books (160 Kamehameha Ave.); 2:00 P.M.
BONUS DAYS!
Tuesday, March 5
"Books are Building Blocks" read-aloud program – This program will give families the opportunity to enjoy books being read aloud for children ages 5-18. The adults will have their own reading group and must attend the program with their children (no exceptions). There will be five separate reading groups: ages 5-7, ages 8-10, ages 11-13, ages 14-18, and their parent(s). Each group will have a person reading aloud to them, followed by a discussion of what was read. Registration will take place from 4:30 to 5:15 in the library lobby. Families will then separate into groups with a reader from 5:00 to 6:00. Afterward, the families will meet on the lanai for free refreshments, prizes, and books. F.O.L.K. is seeking volunteers with a dramatic flair to read aloud to children or adults. Become involved! Whether you commit to one time or ongoing readings, your help is needed and appreciated. Kailua Kona Public Library; 4:30 P.M. to 6:45 P.M. To pre-register, volunteer, or for more information, please contact Shani Dutton at 936-6190 or e-mail F.O.L.K. at FOLK@folkhawaii.com.
Wine and Words – Kona! Join everyone at the book store once a month for a night of AUTHOR'S! Kona Stories will host 4 – 5 authors for you to meet and talk story with while you enjoy wine and pupu's. This event is FREE and happens the First Tuesday of each month. March authors include Chuck Antone, Mary Lou Sanelli, and John G. Rees. Kona Stories (78-6831 Alii Dr.); 6:00 P.M. For more info, visit the Kona Stories website.
Alice Inoue: Destination Happiness Book Class – Six weeks of inspiration and clear direction on how to live a happier life with less stress! You will come away from this course with: a better attitude; a new perspective; a greater sense of control; less stress, guild, and regret; a deeper connection to yourself and your intuition; and more! Fee is $175 for six classes. If unable to attend, purchase the audio recordings for $60. NOTE: Course fee does not include book. You must have a copy of Destination Happiness and read the chapters scheduled to be covered prior to class. The book is $14.95 on amazon.com or also available locally at Sedona in Ward Center. On this day – Chapter 5: Avoid Distractions and Chapter 6: Reduce Your Load to Conserve Gas. Gentry Pacific Center, Conference Room (560 N. Nimitz Hwy); 6:30 P.M. to 8:30 P.M. You can register online at astrology-fenshui.com or call (808) 436-8234.
Thursday, March 7
Authors Night at Waialua Library – The Friends of Waialua Library will present their annual Authors Night featuring guest authors George & Willa Tanabe (Japanese Buddhist Temples in Hawaii ), Waimea Williams, (Aloha Mozart, Kolohe Iole) and Gabe Baltazar Jr.  (If It Swings, It's Music). Free and open to all ages. Waialua Public Library (67-068 Kealohanui St); 6:30 P.M. to 8:30 P.M. For more information, please call the Library at 637-8286.

WORDS+ (Out Loud in the Library) – Out Loud in the Library at Windward Community College celebrates the rich intersection of words and visual art—poetry,  raphic novels, video and book arts. This month features local and visiting writers and artists Lynn Young, Maiana Minahal, Tyler Chin-Tanner, and Wendy Chin-Tanner. Gather for music, reading and presentations. This event is free and open to the public. WCC Library Learning Commons, Room 102. For more information, contact Out Loud in the Library coordinator and Windward CC English instructor (and award-winning poet) Janine Oshiro at 236-9231 or jhoshiro@hawaii.edu.
[gn_divider /]
Remember, all events listed above may be subject to change. Please contact the venue beforehand if you plan on attending. We encourage you to click on the links that are included with the events in the time line above. More events can be found on our Hawaiʻi Book Blog Events Calendar. You can also keep up with events through us on Twitter by following @HawaiiBookBlog.
If you have an event you would like us to help promote, please leave us a comment here or e-mail me at aalba@hawaiibookblog.com. Mahalo and have a great weekend!