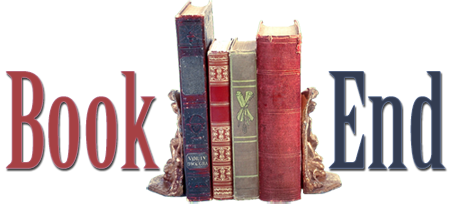 It's time…it's time…it's Book End Time! Welcome to this week's Book End, highlighting the week's literary and library events here in Hawaiʻi.
Support our local literary scene and our local libraries by attending these events.  Hope everyone has a great weekend!
[gn_divider]
Saturday, May 19
Friends of the Waialua Public Library Book Sale – Friends of the Waialua Library holds a book sale at the library every 3rd Saturday of the month! There is also a bake sale at the book sale. Join the Waialua Friends in supporting the Library and find cheap books and ono treats!  Waialua Public Library (67-068 Kealohanui Street); 9:00 A.M. to 2:00 P.M.  Call (808) 637-8286 for more info.
Friends of Mililani Public Library Book Sale – Friends of Mililani Public Library will hold their Quarterly book sale this Saturday. Lots of great gently used books will be available at incredibly low prices—what a steal!  All proceeds go to the support of this library branch.  Mililani Public Library (95-450 Makaimoimo St.); 10:00 A.M. to 3:00 P.M.  For more information, call the Library at 627-7470.
Movies and Munchies – Remember Saturday morning cartoons?  "Looney Tunes Spotlight Collection: The Premiere Edition," featuring Bugs Bunny and Daffy Duck in classic cartoons, will be shown on a large movie screen for your enjoyment.  Laugh along to slapstick comedy antics and munch on dry cereal snacks provided by the Maui Friends of the Library.  This program is suitable for the whole family. Kihei Public Library (35 Waimahaihai Street); 10:00 A.M.  For more information, call 875-6833.
Tsunami Preparedness – Manny Mattos of the Pacific Tsunami Museum in Hilo, and Dr. Gerard Fryer, Geophysicist at the Pacific Tsunami Warning Center in Ewa Beach, will present an overview of tsunami and how to prepare for tsunami emergencies.  Learn how to prepare for emergencies in the home, workplace and at school.  Get the latest information about the recently revised Tsunami Evacuation Zones. This one-hour program is intended for adults but all ages are welcome to attend.  The program will include a question-and-answer session. Kapolei Public Library (1020 Manawai St.); 10:30 A.M.  For more information, call 693-7050.
Special Children's Storytime – Come to the book store every Saturday for a fun keiki story time reading.  This week they will be reading Swimmy by Leo Lionni.  Come and join them as Swimmy uses his creativiy to find a new school of fish, and helps them swim together as a group. Barnes & Noble Ala Moana Center (1450 Ala Moana Blvd. Suite 1272); 11:00 A.M.  For more information, click here.
Learn How to Bon Dance – Bon season is starting a little early at the Hawaii State Library this year!  Bring your happi coat and or yukata if you have them and join in the festivities, everyone is welcome. The groups performing at this bon dance are Hawaii Matsuri Taiko led by Ms. Faye Komagata, Omiya Minbu Kai, and Waipahu Soto Mission Bon Dance Class led by Derrick Iwata and assisted by Eric Kobayashi.  Performers will teach a number to warm everyone up and encourage attendees to join in.  This is the first time several groups will be together at a gathering!  Some of the songs at this bon dance will include: Nippon Cha Cha Cha, Zumpa Ondo, Uta wa Furusato, Giza Giza Haato no Koi Uta, Hanabi Ondo, Hana no Bon Odori, Tanko Bushi, and Beautiful Sunday. This free two-hour program will be held on the Library's front lawn. Program is sponsored by the Friends of the Library of Hawaii and is suitable for all ages. Hawaii State Library (478 S. King St.); 2:00 P.M. to 4:00 P.M.  For more information, call 586-3499.
Author Event with Patricia Jennings Georgia O'Keeffe's Hawaii – Join the book store for a very special event with local author Patricia Jennings.  For three months in 1939, Georgia O'Keeffe visited Hawaii and painted the Islands' tropical flowers, plunging waterfalls, lava bridges, and blue–green sea. On Maui, O'Keeffe was guided by Patricia Jennings, then twelve years old. The bond between the Hawaii preteen and the American icon lasted a lifetime. Georgia O'Keeffe's Hawaii weaves together Patricia's story, O'Keeffe's island adventures, her remarkable Hawaii paintings, and the letters she sent back home. Patricia Jennings, now 85 and great–grandmother of three, lives on the Big Island of Hawaii. Don't miss your chance to meet Patricia and hear her remarkable story first–hand! For more information about this event, please contact us.  Basically Books (160 Kamehameha Avenue, Hilo); 2:30 P.M.  For more info, call the bookstore at 961-0144.
Sunday, May 20
Health and Wellness Events Seminar – The Mokichi Okada Association of Hawaii (MOA Hawaii) will present a Health and Wellness Tea Ceremony and Ikebana for Children and Adults Seminar in the Children's Section. Admission is free.  The seminar will feature a tea ceremony, children's flower arrangement workshop, relaxation acupressure demonstration, and a presentation about natural healing and wellness through the Okada Purifying Therapy, a method of healing the physical body by channeling the power of three elements (Earth, Fire, Water) to the spiritual body.  Seating for the seminar is limited and registration is requested. All children must be accompanied by a parent or caregiver. To register, call the Library or sign up at the Reference Desk.  The Mokichi Okada Association believes in creating a world free of disease, poverty and conflict through the application of Okada Purifying Therapy, Art and Culture, and Nature Farming.  Kaneohe Public Library (45-829 Kamehameha Highway); 10:30 A.M. to 12:15 P.M. For more information or to register, please call the Library at 233-5676.
[gn_divider]
Remember, all events listed above may be subject to change. Please contact the venue beforehand if you plan on attending. We encourage you to click on the links that are included with the events in the time line above. More events can be found on our Hawaiʻi Book Blog Events Calendar. You can also keep up with events through us on Twitter by following @HawaiiBookBlog.
If you have an event you would like us to help promote, please leave us a comment here or e-mail me at aalba@hawaiibookblog.com. Mahalo and have a great weekend!