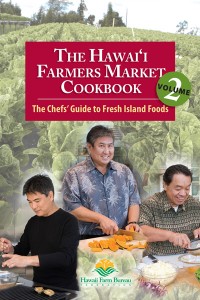 "Buy local, eat local: It will help to sustain the important role that agriculture plays in our community."–Dean Okimoto President of the Hawaii Farm Bureau Federation
"Buy local, eat local" is the positive message echoing in my head when thumbing through the new and improved farmers market cookbook recently released by Watermark Publishing. Edited by food writer Joan Namkoong with delectable photography from Adriana Torres Chong, The Hawai'i Farmers Market Cookbook, Volume 2 continues to spotlight Hawaii's burgeoning farmers market scene by having eighteen of Hawaii's best chefs contribute simple, home-cook friendly recipes using local ingredients—the kind you can buy at one of the seven farmers markets in the state!
Each chef contributes up to five different dishes covering entrees, appetizers, desserts, sauces and more.  The recipes are also marked with a sidebar of culinary commentary straight from the chef's mouth ranging from Wikipedia-type information, to amplified instructions, to personal anecdotes, and even specific food preferences.  For example, Vikram Garg prefers crunchy Japanese cucumbers for his Cucumber-Sour Cream Dip and Hiroshi Fukui likes Mrs. Cheng's tofu when making Agedashi Tofu.
We love that the book includes a list of island grown products featured in the recipes and that at the top of each page the ingredients needed from the farmers market are specifically highlighted. So you know right away exactly what you need to get from the market for that recipe.  There's information on where and when Hawaii Farm Bureau sponsored markets occur on Oahu, Kauai and the Big Island. There's even farmers market shopping tips! However, the fact that the book is organized by chef is both good and bad. Skimming the contents won't tell you which page to turn to for an appetizer recipe or a dessert, instead you see the chef's name and their restaurant. So, essentially you have to read the whole book to get a good sense of what recipes are where. OR you can search the index by ingredient and find recipes that way. In this sense, Volume 2 really encourages you to get to know the ingredients and the chefs better. I thought it was quite clever, but it drove Misty a bit loopy because she so loves organized categories.
Like many of Watermark's products, the quality and presentation of the material is top-notch.  Volume 2 is bound with double loop spiral binding, making it practical for use in the kitchen where you may need to fold one cover over the other. The pages are glossy, which is helpful for clumsy cooks like Misty. There are colorful photographs throughout, with a picture of each chef cooking and an image of at least one of their featured recipes. With simple recipes by some of Hawaii's expert chefs using homegrown Hawaii ingredients , The Hawaii Farmers Market Cookbook, Volume 2 is a necessary inclusion to any kitchen guru's cookbook collection. This unique book is the result of remarkable collaboration on behalf of all the chefs (see complete list below) and the Hawaii Farm Bureau, proving that good food and good ingredients are not far from home.
I'm embarrassed to say, I'm a newbie to the farmers market scene here in Hawaii.  While not much of a cook (yet!), reading this book  I couldn't help but be inspired to start buying local produce and trying these ono recipes. Every Saturday the original farmers market in Hawaii is held at Kapiolani Community College, and June 26th marks the official launch of Volume 2 with a book signing at the KCC Farmers Market featuring a number of the chefs who contributed to the book!  Hawaii Book Blog will be there, so whether you were planning on going shopping or not, come down on the 26th—the market opens at 7:30am and the book signing will be from 8am to 10am.  Hopefully we'll see you there…
For more information on upcoming events for The Hawai'i Farmers Market Cookbook, Volume 2 check out bookshawaii.net.
The Hawai'i Farmers Market Cookbook, Volume 2
Edited by Joan Namkoong
Watermark Publishing, 2010
154 pages
Chefs included in The Hawai'i Farmers Market Cookbook, Volume 2: The Chefs Guide to Fresh Island Food are Kevin Chong of Chef Mavro; Sam Choy; Hiroshi Fukui of Hiroshi Eurasian Tapas; Beverly Gannon of Gannon's, Joe's in Wailea and more; Vikram Garg of the Halekulani Hotel; George Gomes, Jr. of Mauna Kea Beach Hotel; Ed Kenny of Town and Downtown; Dave "D.K." Kodama of The DK Restaurant Group (Sansei, DK's, Vino); Eric Leterc of The Pacific Club; Peter Merriman of Merriman's; Mike Nevin of Pavilion Cafe; Tylun Pang of Fairmont Kea Lani; Russell Siu of 3660 on the Rise and Kaka'ako Kitchen; Goran Streng of Tango Contemporary Cafe; Ben Takahashi of Sheraton Kaua'i; Alan Takahashi of Le Bistro; Alan Wong; and Roy Yamaguchi of Roy's.