posted by M.L. Sanico
Cook book recommendations for the holiday party season!
Office potlucks, family gatherings, barbecue at the beach with friends… you're sure to find something for everyone in these books!
If you've been to a local-style Thanksgiving celebration then you know exactly what I'm talking about. There's no such thing as Thanksgiving "dinner"… it's Thanksgiving "brunch-lunch-snack-AND-dinner" where eating is an all day affair. And traditional Thanksgiving fare is only a small part of the day's menu. A true local Thanksgiving has a little bit of everything—manapua, lumpia, sushi, poke, some kind of noodle, rice … the list goes on and on. Food is important to our local culture and it only makes sense that we have so many different kinds of cookbooks to show for it.  Here are our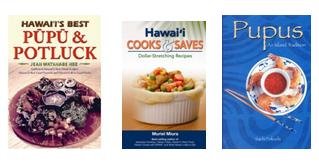 picks for useful cookbooks, perfect for finding easy recipes in time for all the holiday parties and potlucks you'll attend this season.
The first one, Hawaii's Best Pupu and Potluck (Mutual Publishing) by local cookbook veteran Jean Watanabe Hee has great recipes for those big gatherings where you're not sure what to bring. There's a lot of variety in this book, so whatever recipe you pick, it's sure to be a good addition to the party. Don't you hate it when you bring something only to find someone has brought the same thing? It's like wearing the same dress… although, with food, more is better so even if you have duplicate dishes it just means you can have extra helpings.
The second one, Hawai'i Cooks and Saves (Mutual Publishing) is one of Muriel Miura's most recent books. Muriel Miura and the folks at Mutual Publishing have produced some of the islands best cookbooks, like Hawaii's Party Food, which we reviewed here at HBB in the past. Her books are always well put together—spiral bound and just the right size for the kitchen with drool-worthy pictures and easy to read directions. Hawai'i Cooks and Saves is a great book for fast and easy recipes, with sections and tips on using pre-packaged foods for quick but wholesome meals. The only thing I didn't like about it was that it didn't really show how using the recipes and the ingredients equated to savings. BUT, many of the recipes are written for larger, family servings that are perfect for potlucks or buffet-style parties.
The third book, Pupus: An Island Tradition (BessPress) by Sachi Fukuda is an older book that I haven't seen in the stores, but you can purchase it online or visit your library. This was published before the carb-cutting craze and is filled with over 200 scrumptious recipes for pupus. It's funny how cook books reflect health and eating trends of the times. But it's the holidays and as they say, "in for an inch, in for a mile". These recipes don't hold back—butter, mayo, cream cheese here we come. Go for broke!  Parties are for letting loose I say, and most of these recipes are ready for a party!