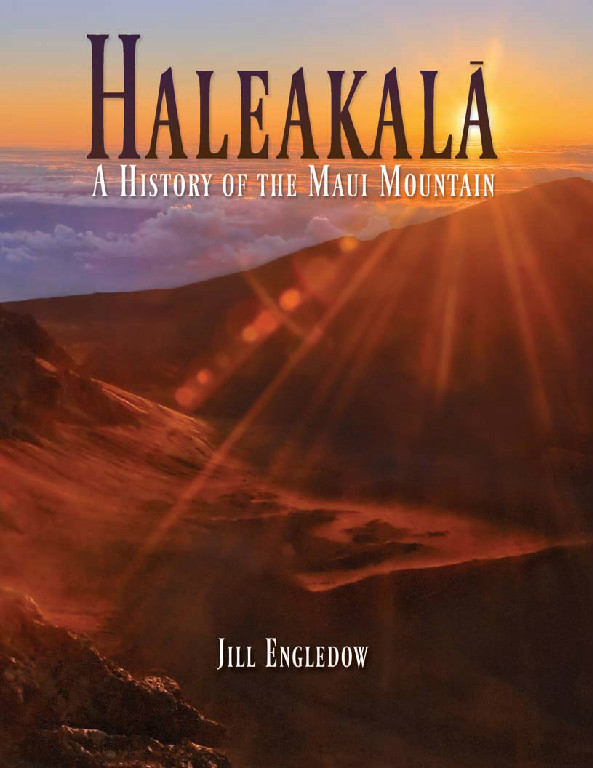 Standing at the summit of Haleakalā, cradled in clouds with their shifting colors and shapes, is like being in another world. You really feel that it's a place of power and importance.
This gorgeous book all about Haleakalā is the latest from boutique publisher Maui Island Press and author Jill Engledow. It shows us the history of the mountain from it's volcanic formation and it's role in ancient Hawaiian culture and agriculture to the exploration and planning of a national park.
This goes beyond the facts and the who's who. It's the stories of the people; stories of the places that have made Haleakalā such a magical location to work, live and explore.  This would be a great supplement for a visitor who's found themselves enchanted by Haleakalā's splendor. It's packed with info that exceeds your basic tour guide so it might be overwhelming for someone just looking for a quick read.  I think locals will enjoy this book because it expands on the personal experiences and anecdotes of people and places in Haleakalā. We like to know the scoops, and this book is definitely the scoops. Read about how the Boy Scouts saved the Nene Goose–0r the adventures of rough riding ranchers, crooning cowboys and curious scientists. History comes alive and the political and ecological dramas unfold with these unknown stories of the Maui Mountain. It's one of a kind.
I highly recommend this book, not only for the wealth of information and unique stories but also for the wonderful photos. Glossy, full color pictures show the beauty of Haleakalā and clear black and white pictures reflect its deep history. The book is meticulously researched and lovingly compiled by Engledow, who is a very knowledgeable speaker about all things Haleakalā. If you get a chance to attend pone of her readings or presentations I definitely recommend you go.