Happy New Year! Hau'oli Makahiki Hou!
You may have noticed a slight decrease in posts here at HBB (especially regarding our Library Tour— where we hit a bit of a snag and have not recovered). Despite failing to complete our Library Challenge by the end of the year (and my tendency to wallow) we're still here and eager to give you the latest news on books and literary events! The new year will bring a few changes that we've been working on including a new layout for the site, consistent posting and some new contributors. As a bit of fun, Alex and I will write out our blog resolutions for all to read and see how many we can stick to. Right now however, I wanted to share a keiki book recommendation for the new year holiday.
I have a large family here on Oahu and New Year's is when everybody comes to my house for the biggest party of the year. There's always tons of food, fun and yes… firecrackers. Love them or hate them, firecrackers are a part of our local culture and a part of what makes New Year's celebrations in the islands so unique. I love that about Hawai'i… that regardless of heritage or ethnicity we've been able to pool our traditions into a collective mish-mash of things that make up a "local New Year's". Japanese traditions, Filipino, Chinese… it's all mixed together because you can never have too many ways to wish for health and prosperity for your friends and loved ones (we're not Japanese, and yet every year my father insists on buying kadomatsu and eating mochi).
But then there are things about New Year that are just flat out "local"… like those lolo kids who play "chicken" with the firecrackers, or how there's always one set of neighbors on the street who gotta compete over who can make the most noise or the biggest finale boom at midnight. Or getting bus' up toes from the shrapnel because you're wearing slippers. You know what I'm talking about! Here in Hawai'i we get together and we make our own traditions…  they just happen to include explosives.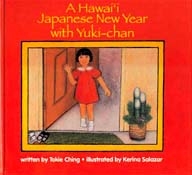 New Year's tradition is what this keiki book is all about. A Hawai'i Japanese New Year with Yuki-chan (Mutual Publishing) by Tokie Ching is part of the Yuki-chan series of kids books specifically featuring Hawai'i Japanese culture. In this New Year book Yuki-chan and her family go through the traditions of preparing mochi and other foods, singing songs and celebrating with friends and family… and if you look closely at the cover you'll see a kadomatsu!  What I especially like about it, is that everyone in the family is mentioned in the story. Mom, dad, grandparents, aunties and uncles… just the way gatherings tend to be in Hawai'i. It's a very cute book and a great introduction into Japanese New Year culture.
**In my family, we eat podagee bean soup with sweet bread, after midnight for goodluck! What are YOUR New Year's traditions?