posted by M.L. Sanico
I hope everyone has had a wonderful Thanksgiving holiday! Having imbibed on various treats and  now sufficiently out of my food induced coma, I thought it might be nice to talk a little bit about makahiki the Native Hawaiian equivalent of a harvest celebration not unlike Thanksgiving, Octoberfest or solstice. However, unlike these anglo-celebrations of the fall, makahiki lasts for nearly four months starting in late October or early November with the rising and setting of the constellation Makali'i (Pleides or Seven Sisters). During this time there was a kapu on all work and warfare and instead, the people would gather to share food, festivities and games. It was a time to celebrate life— to recognize the importance of the land and the sea and to appreciate their abundant resources.
Makahiki was one of the principal events of the year for Native Hawaiians and yet I haven't seen much out there by way of literature. The makahiki festival is mentioned in a few books as part of general Hawaiian culture (mostly in tour books or recountings of peoples trips back in the 1800's), but sadly, nothing of great detail. Here's a nice site that talks about makahiki and it's role in the lives of ancient Hawaiians. There's also Hawaiians of Old (Bess Press) by Betty Dunford which has a whole chapter on makahiki and Hawaiian games. This is a fantastic book for anyone interested in ancient and native Hawaiian culture and is used in classrooms to teach Hawaiian history.
Since competitive sports and games were widely played during makahiki, with islands pitting their best athletes against one another similar to the olympics, another great book to check out is Hawaiian Games to Play (Kamehameha Publishing) by Donald Kilolani Mitchell. This book is wonderful!! It's a comprehensive collection of Hawaiian games and sporting including how they were played, when and why, with makahiki favorites like ulu maika (similar to bowling) and holua (sledding). There's even directions on how to play some of the games in a modern setting, with games for pairs and individuals too (check out this site to make and play your own game of konane—hawaiian checkers!)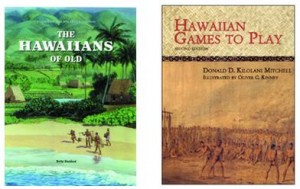 And since makahiki is a celebration of the crops and harvest, I thought I'd throw in some more book recommendations on Hawaiian plants. Like cookbooks, Hawaii has produced many books on plants and gardening. Most of them are field guides that help you identify the various plants that prosper in our islands, or they're how-to guides with tips for cultivating and growing tropical plants, fruits and flowers. The three I picked to share are slightly more dimensional in different ways. Plants in Hawaiian Medicine (Bess Press) by Beatrice Krauss with detailed sketches by Martha Noyes is a nice book because in addition to pictures and facts about the plant, you learn how it was used, gathered and prepared by ancient Hawaiians. There's a lot of detail in this book about how each plant (and what part of it) was used and the procedures taken to make tinctures, salves, cords and kapa. In so many ways, it's better than a book of pretty plant pictures. Krauss also has another book Plants in Hawaiian Culture published by the UH Press.
Hawaiian Heritage Plants: Revised Edition (UH Press) by Angela Kay Kepler is a recently updated version of her older book published in 1983. It's a compilation of newspaper articles that composed a series about native plants in the 70's. There are wonderful, full color pictures and a lot of them! This book features more flowers and ferns than the other two but underlines the diversity of plants that call Hawai'i home.
Plants of Old Hawaii (Bess Press) by Lois Lucas is a fun little book. Although there aren't any beautiful color photographs each plant description is accompanied by a legend or story where that specific plant is featured, as well as a poem or rhyme—sort of emphasizes the importance of plants to the Hawaiians, by sharing the myths and legends about them.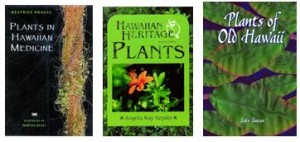 More to come on this quarter-long celebration in future posts!