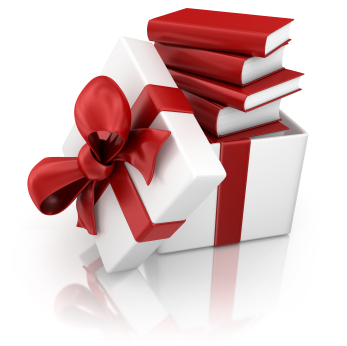 Well, the weather outside is frightful… and the crowds aren't so delightful!
Continuing on with a tradition we toyed with in 2009, went full-steam ahead with in 2010, and then forgot last year; we present to you the HBB Last Minute Gift Guide—for there is no greater last minute gift than a book. And yes, this is truly last minute. Just pop on over to a bookstore, or even a Target or Costco, and you're likely to find a decent collection of local books for sale. Whether it's for Christmas, another holiday, or just for your own kicks, it's your call on how to use our guide. Here are a few local books from the past year that would make fine gifts or just great reading material.
More questions? Hit us up on Twitter: @HawaiiBookBlog.
[gn_divider /]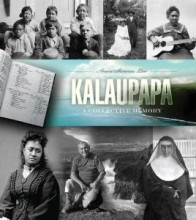 For the person really interested in Kalaupapa:
This year saw another bevy of great books about Kalaupapa. For that person who read Alan Brennert's Molokai, and wants to learn the real stories that occurred, I'd highly recommend taking a look at Anwei Skinsnes Law's Kalaupapa: A Collective Memory (University of Hawaiʻi Press, $28.99). It's a beautifully constructed and incredibly researched text that combines hundreds of hours of transcribed interviews, archival documents, and letters and petitions—many of which that have been translated from Hawaiian. It's the history of Kalaupapa as told by its own people, and would be a cornerstone of any Kalaupapa collection.
Another highly recommended take on this would be Makia Malo's magnificent memoir, My Name is Makia: A Memoir of Kalaupapa which Misty reviewed and called "a unique kind of memoir…[that] is an invaluable addition to Kalaupapa literature."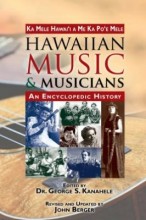 For that music lover who also knows how to read:
There's no greater gift this year for a lover of Hawaiian music than the newly re-released and updated anthology, Hawaiian Music & Musicians (Mutual Press, $35.00 but currently on sale for $25.00). This updated take on the George Kanahele 1979 classic by local music critic John Berger includes the wealth of Hawaiian music introduced between 1979 and now, including the controversial rise of Jawaiian music, and a book that is more than double in length from its predecessor. With biographies from Hawaiian musicians from every era; great articles on chants, slack key, falsetto and more; and excellent essays covering Hawaiian musics and favorite songs; there is something for everyone here that loves Hawaiian music. A must-have for any music aficionado.
I would also like to recommend the recent release If It Swings, It's Music: The Autobiography of Hawaii's Gabe Baltazar Jr. (University of Hawaiʻi Press, $24.99) which details—in his own words—the life of the renowned Asian-American jazz artist.  For lovers of jazz music and its movement as guided by Baltazar, this is a book you won't want to put down. Another great music book is The Ukulele: A History by Jim Tranquada and John King (University of Hawaiʻi Press, $20.99. In my review of this book I conclude that it helps provide "further proof that the ʻukulele's place in music and pop culture history will stand the test of time."
For the fiction lover: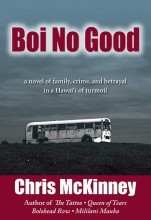 A few of the big names released fiction this year, whether locally or abroad. Most notably in local circles, The Tattoo author Chris McKinney's latest novel, Boi No Good (Mutual Publishing, $15.95) came out to a lot of buzz, most notably from the Honolulu Weekly. Misty, who reviewed the book for the Honolulu Star-Advertiser, looks beyond the "seedy aspect" of the book's setting and focuses on the strengths of the book's powerful imagery, insight into the dynamics of Hawaii's families and politics, and other subtle Island truths. For that fiction lover who enjoys realistic portrayals with a message, you can't go wrong with McKinney's Boi No Good.
If you're looking for something different from local literature, but want to support one of Hawaii's authors, then I'd also recommend picking up a copy of The Spy Lover by Kiana Davenport (Thomas & Mercer, $14.95). If you don't mind waiting, the paperback edition of the book is on sale at Amazon for $5.00. In this book, Davenport moves into the world of the American Civil War, where three lives–a Chinese soldier fighting for the North, a nurse turned spy, and a Confederate cavalryman—find themselves entwined within the bloody conflict. As a bonus, this book would serve as a great gift for that Civil War buff in your circle.
Fiction Series:
But maybe, you have somebody who devours quick fiction books and loves reading series! There's some great mystery and crime novels coming out from Hawaii authors that I'd like to shine a light on.
Kauai author Toby Neal's Lei Crime series is a great set of novels covering the life of Detective Lei Teixeira. The series takes the protagonist across various islands as she experiences criminal investigations and faces her own scarred past. Douglas Corleone recently concluded his Kevin Corvelli series with its final inclusion, Last Lawyer Standing. For fans of legal thrillers with an arrogant, yet flawed New York City lawyer getting by in the Islands, this book, along with the rest of the series, will keep you intrigued. For more, read Misty's review of this final chapter in Corvelli's saga. Another budding series that won't break the bank but would be a great "stocking stuffer" is the Louise Golden series from Laurie Hanan. This series provides an interesting protagonist, Louise Golden, who happens to be a mail carrier that finds herself knee-deep in mysterious circumstances ranging from missing persons, to ghostlike strangers, and runaway dogs. Find out more on the author's website.
For your adventurous and activist keiki: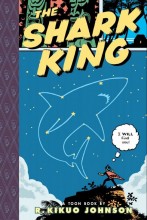 Need something for the keiki? You can't find anything more to spark the imagination of youth than a well-written (and illustrated!) book. Here's a few recommendations:
The Shark King by R. Kikuo Johnson (Toon Books, $12.95) is a fun comic book story depicting an old Hawaiian legend that is perfect for budding readers of chapter books. In my review of this book, I said that "this hardcover comic would be a great addition to any child, and a fun and engaging way to introduce them to Hawaiian legends and folk tales."
Speaking of adventure and chapter books, there is a new keiki novel written and illustrated by Roy Chang called Cacy & Kiara and the Curse of the Kiʻi (BeachHouse Publishing, $11.95). This book follows the adventures of two sixth-graders who stumble upon a cursed kiʻi in Volcanoes National Park. Soon they are whisked on an adventure to save the park while cavorting with menehune, Hawaiian goddesses, ʻaumākua, and more.  
For younger keiki looking for a cute, fun, and informative picture book, look no further than the newest inclusion in one of my favorite series: Wordsworth Stop the Bulldozer! by Frances H. Kakugawa (Watermark Publishing, $10.95). In my review of the book, I stated that "Kakugawa's writing finds ways to encourage children to get involved with issues such as the environment, get interested in different styles of writing such as Japanese poetry, and promote healthy and fulfilling relationships with their peers." Even greater is that Watermark teamed up with the Hawaiian Reforestation Legacy Initiative to educate keiki on the joys of planting trees to preserve our natural habitats. Not only do you get a great story, but a sense of accomplishment from supporting a worthy cause.
For the kitchen-dweller: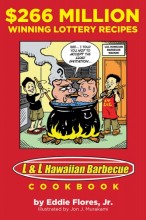 If there is one thing we love in Hawaii, it's food! Every year, you can always expect a few of our local publishers (and even independents) to release several cookbooks. With so many to choose, it's often hard to pick one out from the pack unless it stands out in it's own way—whether it's focus is on a specific food, certain regional tastes, and/or a particular theme. One such book that will stand out from the rest is the recently released $266 Million Winning Lotter Recipes: L&L Hawaiian Barbecue Cookbook by Eddie Flores, Jr. with illustrations from Jon J. Murakami (Mutual Publishing, $9.95). Buy it for the great writing, the over 60 recipes included and valuable cooking tips. Re-read and enjoy it for the hilarious drawings by talented local artist, Murakami.
Continuing with the Dash of Aloha series of cookbooks, A Splash of Aloha from the Kapi'olani Community College Culinary Arts Department (Watermark Publishing, $15.95) continues its tradition of providing healthy recipes and cooking tips into the realm of fresh Island fish and shellfish. The book provides buying and safety tips, nutritional labels and nearly 100 innovative recipes for preparing Island favorites from 'ahi to uku, from butterfish to Kona abalone. They even provide a nifty seafood cheat sheet to help you differentiate the buffet of fresh fish from our Island waters.
Of course, if you're looking for the perfect books to serve as stocking stuffers, read Misty's review of Mutual Publishing's Little Hawaiian Cookbooks.
A few more Quickies:
For fans of Hawaii's fascinating political history, look no further than the biography of the great and accomplished progressive judge, I Respectfully Dissent: A Biography of Edward H. Nakamura by Tom Coffman (University of Hawaii Press, $14.99). Coffman is well-versed in the Hawaii political game (having authored the classic Catch A Wave) and does fine justice to the life of this influential man. I would do a great disservice to anyone  who loves great local literature by not mentioning the instant classic Bamboo Ridge #100 (Bamboo Ridge Press, $18.00), celebrating a hundred issues of Bamboo Ridge. Our own Misty Sanico is included in its pages!
[gn_divider /]
All in all, I hope everyone has had and continues to have a Happy Holiday season. Whether you purchase these books for a specific holiday, or just as a friendly gift for any day of the year, we hope you continue to consider our local treasure trove of books and literature to provide fulfilling enjoyment as worthwhile presents for all occasions.