[gn_quote]
A book is the best holiday gift — full of good stuff, but completely non-fattening!*
[/gn_quote]
Starting from today, this coming week is full of great opportunities on Oʻahu to do some holiday gift shopping for the book lover on your Christmas lists. Check out these three book sales offering new books at discounted holiday sale prices:
Hawaiian Historical Society book sale – Thursday, December 6th

The Hawaiian Historical Society will present its annual open house and book sale today from 4:00 p.m. to 6:30 p.m. Everyone is invited to attend this event in the Society's Library Reading Room at 560 Kawaiahao Street, Honolulu, on the grounds of the Hawaiian Mission Houses Historic Site. Refreshments will he served on the library lanai, and the Mission Gift Shop will be open during the sale.
The Society will be offering new books about Hawaiʻi's history from Hawaiʻi authors and publishers—-all at special discounts for this one-day sale. Selections will include biography, history, reference works, natural history, tales and traditions, Hawaiian language works, and reprints and translations. Titles from local publishers Bess Press, Bishop Museum Press, Kamehameha Publishing, Mutual Publishing, the University of Hawaiʻi Press, and Watermark Publishing will be available as will new titles from mainland publishers.
Purchase by mail order is also available. For more information about the sale including books that will be offered visit the Hawaiian Historical Society website.
Holiday Warehouse Sale – Saturday, December 8th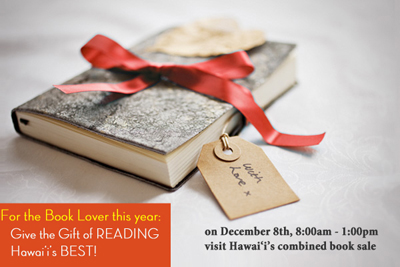 This should be a good one! Come on down to Kaimuki for the first ever annual Hawai'i Book Publishers Association Holiday Book Sale. The sale will take place this Saturday from 8:00am to 1:00pm at the Bess Press Kaimuki Warehouse at 3565 Harding Avenue. Most of the big, local publishers will be there selling their latest books at great, discounted sale prices including: Bess Press, Bishop Museum Press, Bamboo Ridge, Calabash Books, Kamehameha Publishing, University of Hawaii Press, and Watermark Publishing.
This will be a fantastic opportunity to visit and find holiday reading gifts for your friends and family! Parking will be available in the municipal lot. Look out for Hawaii Book Blog as we'll be there!
Downtown Holiday Book Fair – Saturday, December 12th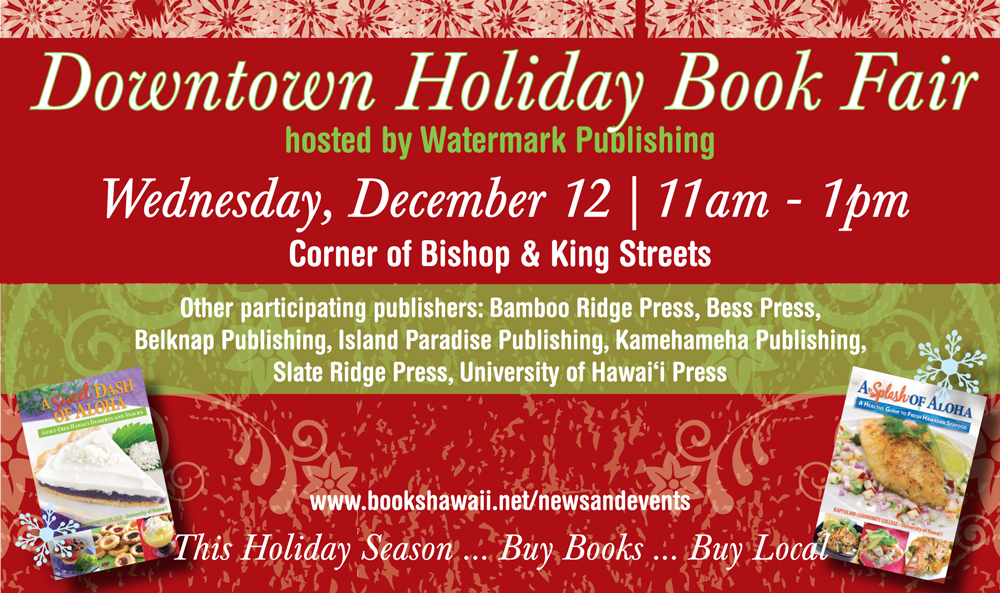 Watermark Publishing will host a Downtown Holiday Book Fair with members of the Hawai'i Book Publishers Association on Wednesday, December 12 from 11:00 a.m. – 2:00 p.m. at the Cades Schutte Building lanai, 1000 Bishop Street,  in front of 24-Fitness and Territorial Savings ('ewa-mauka corner of King and Bishop Streets)
This event gives downtown workers a chance to shop direct from Hawaii's local publishers. In addition to Watermark Publishing, other participating publishers include: Bamboo Ridge Press, Bess Press, Belknap Publishing, Island Paradise Publishing, Kamehameha Publishing, Slate Ridge Press, and University of Hawai'i Press.
Publishers will offer their most popular titles, special gift items and their best pricing. This is a unique opportunity to browse a wide variety of titles and score great deals.
For more on this event, check out the Facebook Event page.