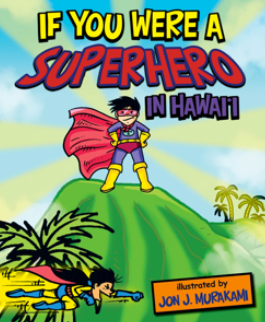 If You Were A Superhero in Hawai'i (BeachHouse, 2012) is the latest keiki board book from popular local artist/illustrator Jon Murakami and BeachHouse Publishing.
Almost everyone has imagined what it might be like to be a superhero–what kind of super power you would have and what your hero name would be. This colorful new kids book asks specifically, what if you were a superhero in Hawai'i?
"Would you rescue lost hikers on top of a pali? Then swoop in to save a stray surfer from folly?"
Each page of this adorable book has a picture of a super keiki doing something amazing. Sometimes their heroics are general but mostly the activity is exclusive to Hawai'i. From stopping lava flows to battling giant mo'o this super story is perfect for local kids. The questions are engaging for little imaginations but the book can also lead to discussions about Hawai'i's real life heroes like lifeguards and firemen who really do save hikers and surfers.
Illustrator Jon Murakami is known for his popular gecko book series [see reviews for Geckos Make a Rainbow and Geckos Up, Geckos Down] and his comics can often be found in the Honolulu Star Advertiser. Although there are no geckos in this book there is a giant mo'o. Overall, this is another fun book to add to the collection and something original in local keiki literature.