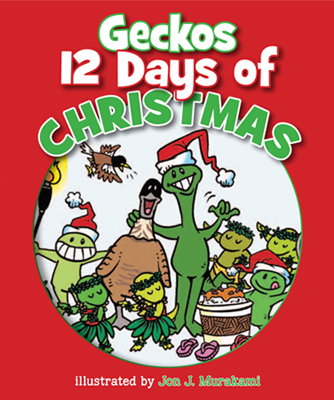 We here at Hawaii Book Blog LOVE the Geckos series of keiki board books.  You need only read our previous reviews of Gecko books, Geckos Make a Rainbow and Geckos Up, Geckos Down, to see that we are consistently charmed by Jon J. Murakami's fun and adorable gecko caricatures.
Geckos 12 Days of Christmas (BeachHouse, 2011) continues this tradition with a fun way to celebrate the Christmas spirit by recreating the song, "The Twelve Days of Christmas."
Those of us in Hawaii know there is already a very popular Hawaiian version of this song, complete with lyrics including cans of beer, pounds of poi, missionaries and televisions.  Instead of rehashing this old classic, the folks at BeachHouse put their own local spin on the song with new inclusions like pairs of slippers, tiki torches, and nēnē honking.  Misty's favorite is the five chili-rice from the fifth day of Christmas, while I enjoy the continuous antics of the two croaking toads from the second day.
Probably the most fun part of the book, and one in which kids will love—I should know, I'm a big kid—is the accumulation of geckos with presents on the page opposite the text.  It's hilarious to watch the two croaking toads lash their tongues out at the mango and shave ice, while a nēnē goose blasts hot fire out of its mouth after devouring some of the too-spicy chili-rice.  Below is an example of what I mean… you can find more pages on BeachHouse Publishing's Facebook Page as they count down the 12 days of Christmas!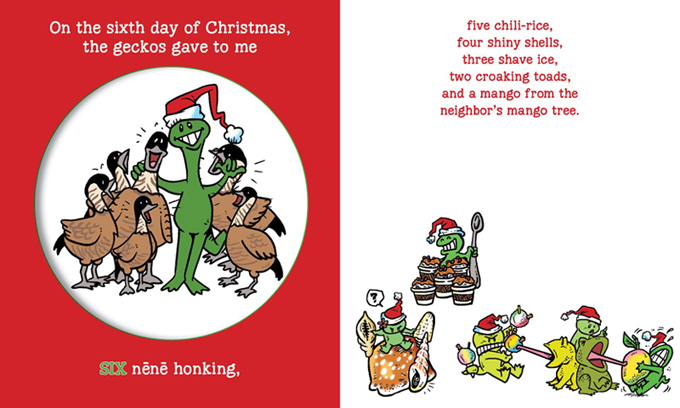 Yes, this is a board book meant for young children, but Misty and I are both adults and loved it!  (Hope that says more about the book than about us.)  The combination of the 12 Days of Christmas done in a new, kid-friendly style along with Jon J. Murakami's distinctly cute and fun cartoon illustrations make this a must-have book for your young keiki this Christmas.
Geckos 12 Days of Christmas
illustrated by Jon J. Murakami
BeachHouse Publishing, 2011
24 pages, board book
$8.95