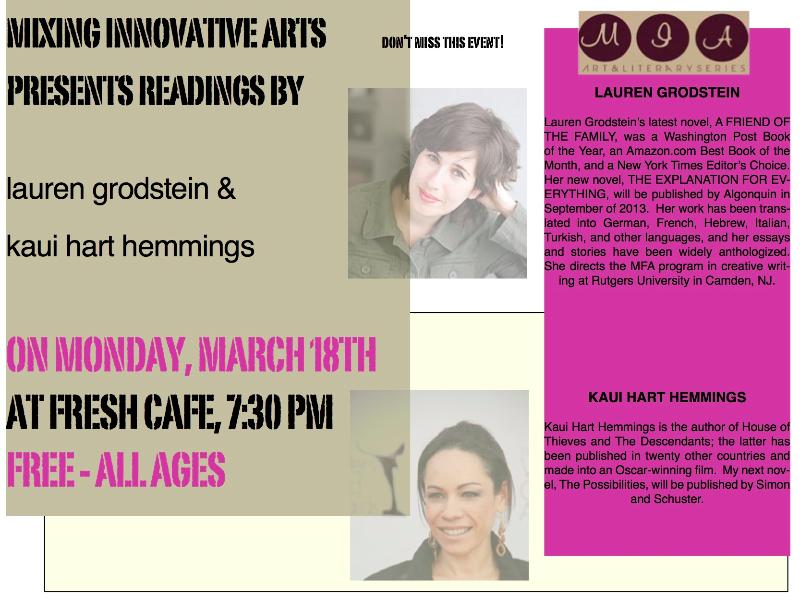 Mixing Innovative Arts' (M.I.A.) award-winning Art & Literary Series celebrates March Madness with not one, but two events this month! The series begins tonight, March 18, 7:30 P.M. at Fresh Cafe's Loft in Space (831 Queen Street in Honolulu), with a fiction double-header featuring the literary stylings of Lauren Grodstein and Kaui Hart Hemmings.
Lauren Grodstein is the author of novels A Friend of the Family and Reproduction is the Flaw of Love as well as the story collection The Best of Animals. A Friend of the Family was praised as a New York Times Editor's Choice and a Washington Post Book of the Year. Lauren teaches creative writing at Rutgers-Camden, where she helps administer the college's MFA program. She lives with her husband and son in New Jersey.
Kaui Hart Hemmings is the author of the story collection House of Thieves and the novel The Descendants which was adapted into an Oscar-winning film by Alexander Payne. Kaui grew up in Hawaii and her next novel will be published by Simon & Schuster.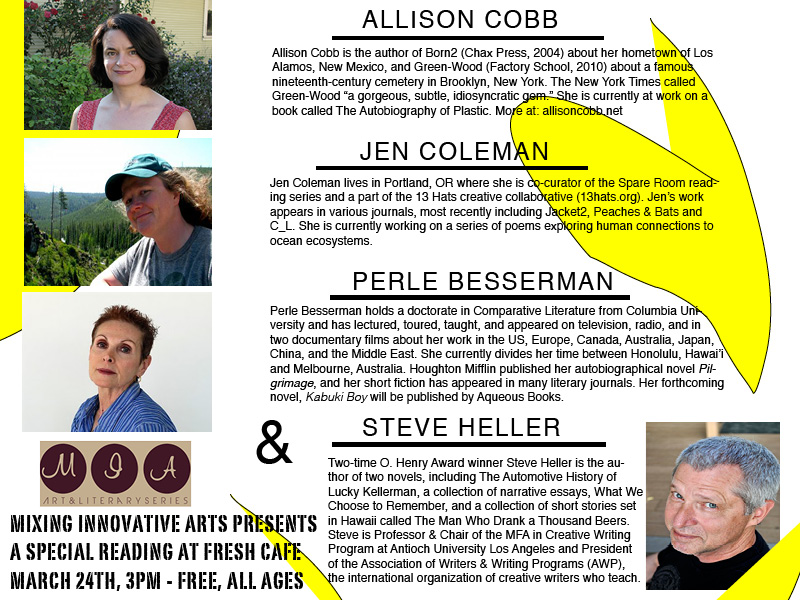 The second March Madness event will be held on March 24, 3:00 P.M., also at Fresh Cafe's Loft in Space. This event will feature the following talents from across the country:
Allison Cobb is the author of Born2 (Chax Press, 2004) about her hometown of Los Alamos, New Mexico, and Green-Wood (Factory School, 2010) about a famous nineteenth-century cemetery in Brooklyn, New York.
Jen Coleman is the author of the chapbook Propinquity and coauthor with Allison Cobb and C. E. Putnam of the chapbook Communal Bebop Canto. Her work has appeared in Chain, Tangent, Ixnay, EOAGH, and other literary magazines.
Perle Besserman is a recipient of the Theodore Hoepfner Fiction Award, a Pushcart Prize-nominee, has authored an autogiographical novel Pilgrimage (Houghton Mifflin) and her short fiction has appeared in many literary journals.
Steve Heller is best known for his novel The Automotive History of Lucky Kellerman, which was a selection of both Book-of-the-Month Club and the Quality Paperback Book Club. Lucky Kellerman also received the Friends of American Writers First Prize Award. Heller's short stories have appeared in numerous magazines and national anthologies, and twice have received O. Henry Awards.
Both events are expected to be well-received so be sure to get to Fresh Cafe early to get a good seat! These events are free and open to all ages to attend. Parking is available in their parking lot at 831 Queen Street. Additional parking can be found at the warehouse next door at 839 Queen Street, where it says Wesellthings4u. They also recommend parking on Ward or Cooke Street and taking a healthy stroll to Fresh Cafe.
For more information, visit miahonolulu.com and follow them on Twitter and Facebook.