I dunno about everyone else, but I'm still recovering from this year's schedule-busting Hawaii Book & Music Festival. But before those post-HBMF blues start here's a few more big literary events coming up in the next few weeks.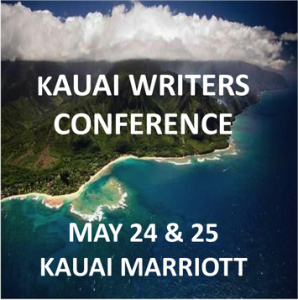 The  Kauai Writer's Conference is happening at the end of this month. Put those extra airline miles to use and hop over to the Garden Isle for two days of workshops and sessions hosted by national publishing experts, authors and literary agents.
For a little extra money you can get advanced manuscript critique and agent pitch sessions. Personally, any 'first-pages' read-a-palooza is always a great learning opportunity, even if they aren't reading your story.

The biennial Children's Literature Hawaii Conference is this year, June 5-7, and is perfect for anyone who loves children's literature… writers, readers, teachers, parents and even keiki since some of the weekend events are meant for the little ones to participate in. This year's theme is 'Beyond the Moon: Journeys Imaginary and Real'  featuring author Kathi Appelt, National Book Award Finalist for The Underneath and Grace Lin, illustrator and Newberry Honor Book Recipient for Where the Mountain Meets the Moon. This is a unique kind of conference that's always a lot of fun. Visit the website for more info and registration.
And SAVE the DATE: The Friends of the Library of Hawaii Annual McKinley HS Book Sale is June 21 thru 29. Start making room on your bookshelves now… it's never too early.