[gn_quote]Kalaupapa started to be like a playground for me. School only for three hours in the morning, seven-thirty to ten-thirty. All I cared was I didn't have to work taro patch anymore. On Oahu every weekend my parents made us work in the taro patch out in Laie. The whole family pitched in because this was our food source in times there wasn't anything else, like during the war. The work was hard and the water so cold. Pili and I made a game of it but even so it was tough, so I was glad I didn't have to work anymore. As far as I was concerned, Kalaupapa was paradise.[/gn_quote]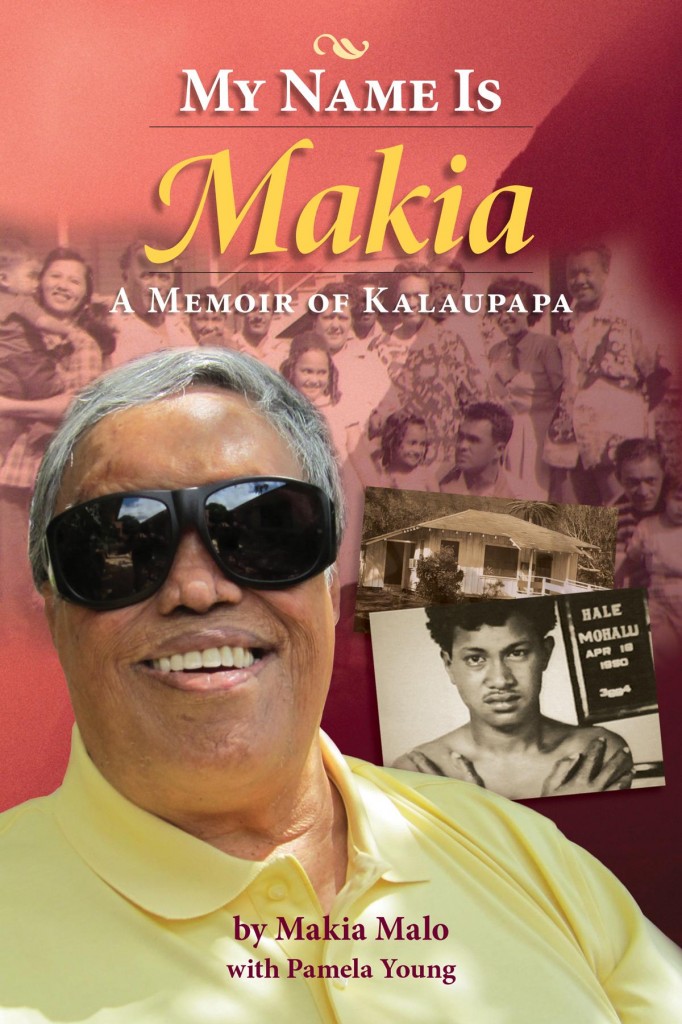 Sometimes you meet people and they make your life better just by having known them. Their stories inspire and amaze you and something in their personality comforts and encourages you. That's what I imagine knowing Makia Malo would be like. Like knowing a part of Hawaiʻi that has long been forgotten, and even parts of Hawaiʻi that will never be again.
My Name Is Makia- A Memoir of  Kalaupapa (Watermark Publishing, 2012) by Makia Malo with Pamela Young is a unique kind of memoir because each chapter has a poem or story within it. There are also interview transcripts and separate sections of poetry and story toward the end. With notes and writings accumulated over his lifetime plus three years of interviews and talk-story sessions with Pamela Young, the two of them have lovingly compiled his various stories, poems and dialogue into this heartwarming book.
The book begins with his childhood growing up in Papakolea. He tells stories about his mother and father, and how they struggled to feed so many kids. Then when his older siblings started to show signs of Hansen's disease, how the family was slowly ripped apart and separated. It was haunting to read his recollections of his mother's cries each time she had to part with another child, and then finally when he had to go. Some of his poems reflect the trauma of separation from his parents and the longing he felt for his brothers and sisters.
There are a few chapters in the middle about life in Kalaupapa, which as you can see from the quote above, wasn't too horrible for Makia. Reuniting with his brother Pili, hunting and cavorting with the other boys of Kalaupapa, and going to school—these were all blessings for him despite being sick. Upon his return to Honolulu he graduated high-school, got married and went to college. He taught Hawaiian language and wrote stories on his computer and spoke to audiences around the world. He did all of this in the face of losing his hands, feet and eyesight to Hansen's disease.
My favorite chapters are the ones where he talks about Ann. Ann was his third wife, a younger woman from a rich mainland family who saw and loved him for everything he was instead of everything he wasn't. She encouraged him to write. Despite all the tragedy and loss– his family, his sight and mobility, and  his true love–there remains in him an inspiring strength and optimism. His poem "Memories" (see to the right) struck a particular chord with me, especially the last stanza. Because all we can do is keep enjoying the good things until it's over.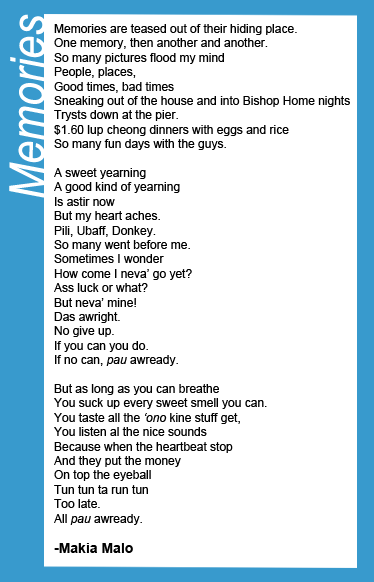 The other element of this book that I loved is the way that Pam made sure to use pidgin when Makia spoke pidgin and standard English when he used that. Like many locals Makia can move back and forth depending on who he's speaking to or what he's speaking about. He appropriately uses more pidgin when he talks about his childhood and his family and standard English when he speaks about his teaching and University life. This linguistic range is reflected in his poetry as he intermingles pidgin with English and Hawaiian as it suits the tempo and emotion of the poem.  Any book that demonstrates the dynamics, fluidity and artfulness of pidgin is a good book in my opinion.
There are only seventeen surviving members of the Kalaupapa community, and though they have each been interviewed and quoted many times, it's important to record their stories as they remember them, big or small, happy or sad,  hard truth or even slightly embellished. It's important to capture not just what happened but their unique voice and character—how did they feel, what did they think? Makia Malo generously shares his thoughts and feelings in this book. He records his sadness and his triumphs so that others will learn and the world will never forget.
"Ann was always happy when I was writing, She said somebody had to write the stories down so they wouldn't be forgotten. It was important for people to know. My childhood in Papakolea will never be again, not the way it was. And my journey with this disease is something that never should be again."
My Name is Makia is an invaluable addition to Kalaupapa literature. The only problem I had with it was that it was too short and read much too quickly. I was so intrigued by his life, his spirit and his writing style that by the end of the book I only wanted to read more. Two of the best books I've ever read about people in Kalaupapa have come from Watermark Publishing. This one, and No Footprints in the Sand by Henry Nalaielua. I hope to see more great Kalaupapa titles from this local publisher in the future. I'm not worried because regarding the quality and range of their books, they haven't disappointed me yet.
Pick up this book, you won't be sorry. And if you need further encouragement watch this replay of Makia and Pam on KITV's Morning Show. Visit the Watermark Publishing website for more information about the book and the events that Makia will be attending to promote it.