[gn_quote] Decades after the August AD 79 eruption that buried Pompeii and its sister cities, Pliny the Younger chronicled how his beloved neighborhood had disappeared into the earth.  Frances Kakugawa is Pliny the Younger to a modern Pompeii called Kapoho. [/gn_quote]
Whenever I hear the name Frances H. Kakugawa, I tend to think of three related things:  poetry, Alzheimer's disease, and a mouse.  Why?  Well, they are all a part of one of my favorite children's books, Wordsworth Dances the Waltz, which I reviewed during our keiki Rec-Fest 2009 and named among my picks in our 10 Favorite Hawaii Children's Books in 2010.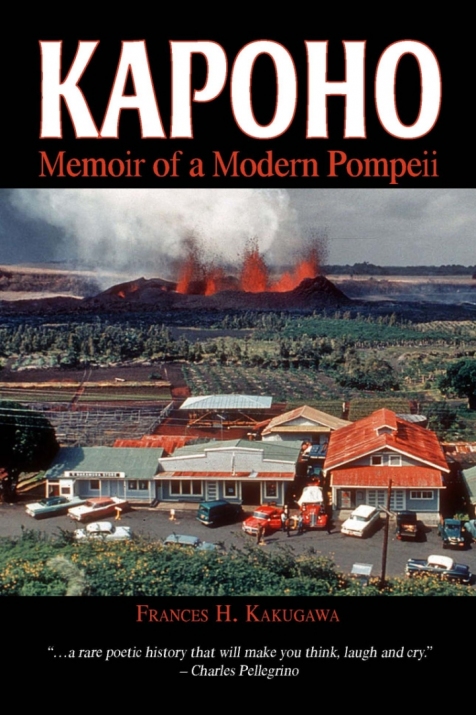 Knowing what a talented writer Ms. Kakugawa is, I wish I jumped sooner onto her latest book, KAPOHO:  Memoir of a Modern Pompeii (Watermark Publishing, 2011).  When I finally started reading it, I was immediately charmed by her brilliant prose and storytelling.  With her words she uncovers the village of Kapoho—which was buried under lava and ash in 1960—and the life of a poor, local Japanese girl in a small town with no electricity or running water.  Being a poet, Kakugawa understands how to use the senses and evoke emotion in her writing, and she does so here, working meticulous details into the stories of her book.
KAPOHO starts off with a bang, literally, as the first story, "The Enemy Wore My Face" recounts her experiences immediately after the bombing of Pearl Harbor.  I loved young Frances' observations, finding importance in things only a child would take seriously—things like smashing "Japanese bugs" to help the U.S. win the war, or feeling safer in school than at home because, "teachers seemed indestructible."  The story also delves into the idea of ethnic identity and realization, which are continuously touched on throughout the book, as the bombing of Pearl Harbor transformed her face from being simply American in her eyes to that of  looking like the Enemy.  Conflicting identity is brought to a forefront when in an effort to look patriotic and not show any sympathy to Japan, her parents destroy everything that might "smell Jap," including ripping the red dots from medicine in case they were mistaken for the Rising Sun.
Later stories explore relationships with her family and friends or are stories from the lives of her parents or grandparents.  They're not ordered chronologically, yet I recommend reading them in order as they often build upon or reference knowledge gleaned from the previous stories.  Kakugawa never hits you over the head with the obvious in her writing; it's her attention to detail, language and storytelling that can blow your mind with the smallest subtlety.  She can sum up an entire idea with a quick visual, make you laugh with astute observations of the most manini things, or provide a powerful sense of gravitas when it's needed.  Despite Kapoho being a nondescript village on the edge of a volcano, Kakugawa brings such vibrancy to this cross-section of mid-20th century plantation life that I did not want the book to end.
Kakugawa writes, "Books would be the only survivors of civilization, and I wanted to survive with at least my name on a book cover, if nothing else."  Frances has done for Kapoho what she wanted to do for herself.  Much like the lava and ash preserve the homes and belongings buried underneath, she suceeds in forever preserving the memory of life in Kapoho for all eternity.
I don't think I can do justice to this book in the few paragraphs I've written here.  All I can say with finality is that I highly recommend reading KAPOHO: A Memoir of Modern Pompeii and give it a healthy five shakas!
KAPOHO: Memoir of a Lost Pompeii
by Frances H. Kakugawa
Watermark Publishing, 2011
112 pages, paperback
$16.95
[gn_divider]
EVENTS
There are quite a few events happening this weekend for Kapoho on the Big Island.  As I've said, this is an excellent memoir, so go purchase a copy and meet Frances H. Kakugawa in person:
Saturday, December 17 | 11am – 1pm
Book Gallery, Hilo
259 Keawe St.
(808) 935-4943
Saturday, December 17 | 3pm – 5pm
"A Writer's Pen" Workshop—The Writing Process and Memoir Writing
East Hawaii Cultural Center, Hilo
141 Kalakaua St.
Sunday, December 18 | 1pm – 2pm
Basically Books, Hilo
160 Kamehameha Ave.
(808) 961-0144
For information on these events please visit the Watermark Publishing blog.