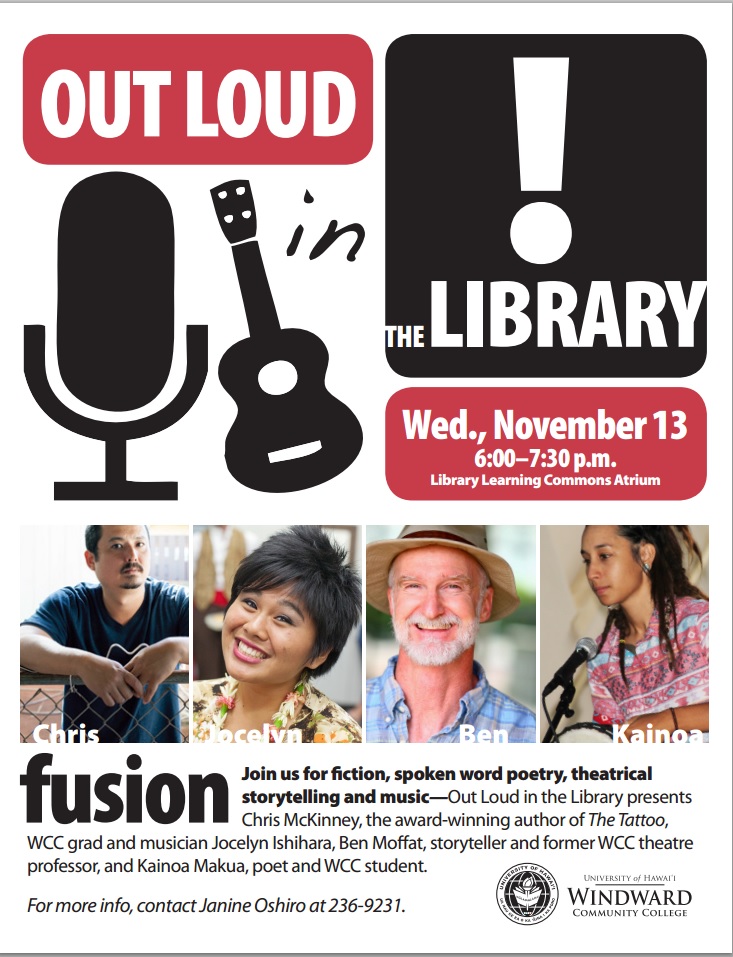 OutLoudNov2013
It's time again for another of Windward Community College's excellent "Out Loud in the Library" events! Enjoy an eclectic evening of fiction, spoken word poetry, theatrical storytelling, and music.
The event takes place tonight, Wednesday, November 13th from 6:00 P.M. to 7:30 P.M. at the WCC Library Learning Commons.
There will be a great lineup of presenters including the award-winning author of The Tattoo and Boi No Good, Chris McKinney; musician and WCC graduate Jocelyn Ishihara; storyteller and former WCC theater professor Ben Moffat; and Kainoa Makua, a current WCC student and poet.
This event is free and open to the public.
For more information, contact Out Loud in the Library coordinator and WCC English instructor and award-winning poet Janine Oshiro at 236-9231 or jhoshiro@hawaii.edu.
[gn_divider /]
Bio Briefs courtesy of Out Loud in the Library:
Jocelyn Ishihara is a local musician who shares her genuine aloha and talent through her music. Born and raised in Kaneohe, she has been influenced by a range of artists, from Nat King Cole to Bruno Mar. She has played with the group Kumukahi and has been a guest guitarist for Windward Delight.
Kainoa "Kaiyohos" Makua is an earth activist, poet, and aspiring videographer. She finds ancient civilizations intriguing, seeks esoteric knowledge, and is committed to social justice. She is currently a student at Windward Community College on the path to becoming a psychiatrist.
Chris McKinney is the award-winning author of five novels, including The Tattoo and, most recently, Boi No Good. He is currently an associate professor at Honolulu Community College and was appointed Visiting Distinguished Writer at UH-Manoa in 2011. He and his wife, Mika, co-direct the Chris McKinney Language Arts Center, which offers reading and writing courses for children and teens.
Ben Moffat is a storyteller, former Windward Community College theater professor, and co-founder of the dance/theater company Monkey Waterfall. He frequently tours public libraries and festivals in Hawaii and Wisconsin, telling original stories using movement, masks, puppets, and stilts.