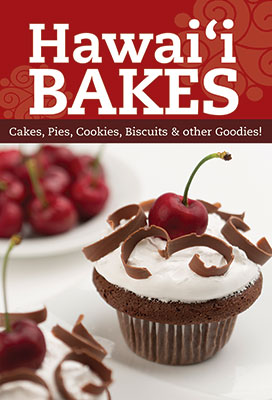 Spring is on it's way and if you're like me and my family you're eager to resume eating those scrumptious sweets you gave up for Lent or New Year's diet resolution. Check out Hawai'i Bakes, a new-ish cookbook from Mutual Publishing for some fresh dessert ideas.
There aren't as many pictures as I usually like, but that just means they've packed a lot of dessert recipes into 125 glossy pages. Sadly there are more generic dessert recipes than should be allowed in a "Hawaii cookbook" (I'm pretty sure we can a zillion red velvet cupcake or peanut butter cookie recipes elsewhere) but there are a few gems that make this a worthwhile purchase or gift. For example, the Kalamansi Cupcakes or the Baked Mochi with Miso.
Also, compared to other sweet tooth books this one is fairly diverse in recipe type and skill level. It's got baked goods, frozen desserts, candy recipes as well as some interesting gelatins and puddings like the Kona Cofee Latte Gelee (zhell-lay: a gelatin-like mixture that originated in France). Fancy, yeah?