A couple weeks ago I was able to attend the National League of American Pen Women- Honolulu's Biennial Writer's Conference with keynote speaker and Master Workshop leader Lisa Yee. There was a great line-up of local authors scheduled to run different sessions throughout the day and believe me, it was difficult to decide which ones to go to. Here's what we were able to choose from: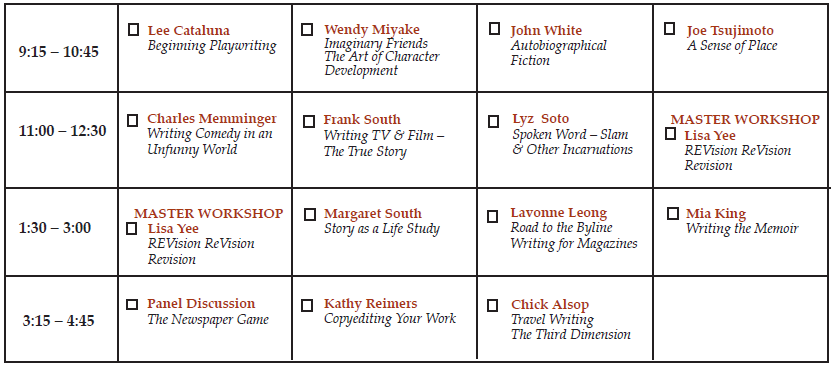 Oh the torture of making me pick between Lee Cataluna and Wendy Miyake— I am a huge fan of them both! I want to be hilariously creative like them when I grow up… er grow up more. For the 1:30-3:00 session I wish I could have been in three places at once with Margaret South, Lavonne Leong and Mia King. Maybe next conference…
The morning started off great, I arrived a little early because I wanted to make sure I had time to buy some books and get them signed. I brought my checkbook and a large canvas tote for all my purchases and was so glad I did! In fact while waiting in line to see Mia, a lady exclaimed "I didn't even think to bring checks, I hardly use them anymore…but look at you, so prepared!" Unfortunately I forgot my camera and missed some great photo opportunities—not quite as prepared as I thought I was 🙁
Award winning children's book author Lisa Yee's keynote address "Writing from the Heart" focused on her experience as an early writer, how she became a successful author and what inspires her. Despite accomplishing so much and winning acclaim in the industry, Yee very humbly spoke about her passion for writing and being an author. I found myself nodding along with everything she was saying throughout her speech and particularly latched onto what she said about putting off writing for your "spare time".  She said, "you have to write for yourself first!" because there's never a perfect time to write, there will always be projects and things going on in life that need your attention. That's something Alex and I struggle with, so it meant alot for me to hear her talk about it being a challenge for her at first too.
For the first session I sat in with Wendy Miyake, author of Beads, Boys and the Buddha and other highly praised books. She led us through some fun exercises on developing character by playing different types of music and encouraging us to create a character "voice" that mimics the feel of the song. It was a useful exercise followed up by some good advice: to get a better sense of your characters—read about, watch, and listen to other characters that are like yours. Flip through magazines to find images related to your character and hang them up. Things like that. I tend to be more of a character writer myself so I had a great time with Wendy.
The second session was the Master Workshop "REVision ReVision Revision" with Lisa Yee where she led us through some exercises on making your words count and strengthening your writing through revision. I particularly liked her expression "barfing on the page" regarding first drafts and how some writers, including herself, overwrite because it's easier to take things away than to add them later. This was one of the best workshops I'd attended at any conference and had a blast listening to Yee describe how she revises. Again I found myself nodding along with her (I too sometimes think I'm a creative genius and love certain sentences so much I want to keep them even if they add nothing to my paragraph/story). That is why we have revision!
I was bummed again at having to make a hard choice and really wanted to hear Lavonne Leong, a successful freelance writer here in Hawaii, speak about writing for magazines…especially local magazines!  In the end, I decided to follow Alex's advice and my third session was with Mia King author of popular novels Good Things and Table Manners just to name a few. She talked a bit about the modern memoir and its growing popularity. It really made me see the genre differently and opened up some possibilities for future projects. She led us through some exercises, like the six-word-memoir which I found very entertaining. With just six words you can convey a story and emotion, or create interest and suspense. I especially liked how Mia applied her "Important Keys to Writing Memoir" as a strategy for writing novels as well. She said "read, read, read…learn to self-edit… and never let fear stop you from writing."
All of the authors were very encouraging, gave fantastic advice and were more than willing to answer questions, talk about books and characters or just hear about your ideas. Coincidentally, or not, they all said that as an author you must be emotionally invested in your work. I am now a lifetime fan of all of them… and Lee Cataluna even though I didn't get to go to her session *sob*. I look forward to future conferences with the National League of American Pen Women in Honolulu.
Lisa Yee and Mia King's official websites are linked in the post above. Wendy Miyake and Lee Cataluna have no official sites that I could find, but they're both on Facebook! As is Mia King… so check them out!